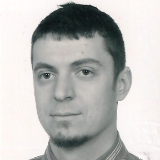 Tomasz Połomski
Ekonomia i Zarządzanie, Wyższa Szkola Handlu i Prawa im...

Wyzsza Szkola Handlu i Prawa im. Ryszarda Lazarskiego w Warszawie 2013 - 2015
Ekonomia i Zarządzanie
Logistyk/Kupiec, RRC Polska 01/2012 - current
Zamówienia i import produktów do UE, specjalizacja produkty AutoID/Wireless/RFID.
Specjalista ds. e-marketingu, Merlin.pl 01/2011 - 01/2012
Prowadziłem promocje działów elektroniki i multimediów, wysyłki do selektywnych baz emaili, koordynowałem współprace z porównywarkami cenowymi (ceneo/nokaut/skąpiec i inne)
Join thousands of students profiting from perkmylife resources
Courses, notes, Q&A groups - all you need to study efficiently and achieve the goals!