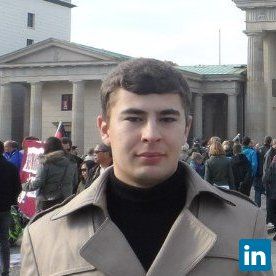 Roman Tsiurupa
Junior Marketing Analyst, The Center for Analyses in Transport and Infrastructure (CATI)

Goal - to obtain a part-time or internship position related with accounting, corporate
finance or financial markets at stable company that will allow to implement my skills for
company's benefits and to gain new knowledge and experience

My competitive advantage has been developed through years of diligent study, high activity in university life administration, trainings and internships. My activeness allowed me to acquire strong communicable abilities, experience of working in a team, and high level of knowledge. Good knowledge of mathematical subjects and education in Finance created a good background for my analytical skills. However, since I'm going to build my carier in Finance, I feel a lack of practical expirience. Thus, I'm looking for some internship related with Finance to implement my skills for company's benefits and to gain new knowledge and experience.
I am sure, You will consider me as a high motivated, responsible and insistent intern.
Szkoła Główna Gospodarstwa Wiejskiego w Warszawie 2013 - 2015
Economics
National Aviation University 2011 - 2013
Kyiv National Economics University 2009 - 2013
Finance and Credit
Junior Marketing Analyst, The Center for Analyses in Transport and Infrastructure (CATI) 06/2014 - current
Student Trainee, PZU 04/2013 - 06/2013
-telephone sales and prolongation of insurance policies;
-maintenance a database system;
-analysis of company's financial statements for preparation a final internship report.
Internship, TeleTrade 09/2011 - 12/2011
- monitoring of Fund and Currency Exchange Markets and preparation of weekly reports;
- keeping up to date with Stock and Money Markets conditions and economic trends;
- operating as a trader on Foreign Exchange Money Market.
Join thousands of students profiting from perkmylife resources
Courses, notes, Q&A groups - all you need to study efficiently and achieve the goals!