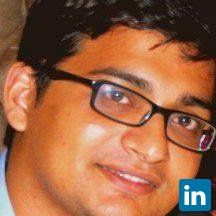 Rohit Ghosh
MBA Student - International Business Consulting, Hochschule Offenburg
Looking for full time employment roles in the field of sales,business development,key account management and thought leadership marketing. Currently enrolled as a full time MBA Student in International Business Consulting with an engineering degree and having more than four years of relevant professional experience in the field of account management,sales and marketing with global entities like SAP,SHARP,Staples and METRO Cash and Carry Group.
Julien Day School 2014 - current
Julien Day School 2014 - current
University of Applied Sciences of Offenburg 2012 - 2014
International Business Consulting
ICFAI Institute of Science & Technology 2003 - 2007
Engineering
MBA Student - International Business Consulting, Hochschule Offenburg 09/2012 - current
Currently undergoing the MBA- Internatonal Business Consulting from Hochschule Offenburg with more than 5 years of professional experience with MNCs like METRO AG, STAPLES, SHARP in the field of marketing, business development and key account management.
Business Intern- Marketing , Business Transformation Services, SAP 09/2013 - 03/2014
SAP Deutschland, Walldorf (Germany)
•Creation and development of successful customer testimonials and references for SAP BTS through content development with the Business Consulting Team.
• Facilitate and assist promotions of the Lighthouse premium customers for SAP BTS by close collaboration with CRM delivery and Social Media teams.
.• Cross promotional strategy and planning for collaboration between the BTS & Center for Business Insight & executing of the Business Transformation Academy (360) Journal,December 2013 issue.
• Maintenance of the internal BTS portal and asset management • Part of the global marketing team for strategy implementation focus for 2014.
• Assist the Business Transformation Academy for Services and Thought leadership integration and co ordinate monthly meetings with thought leaders and industry experts.
Manager- Key Accounts, Metro Cash and Carry 03/2012 - 09/2012
-Responsibility for handling the SCO (Services, Companies & Offices) category of corporate customers in Kolkata and Eastern Region.
-Core Assortment analysis & periodical review for SCO customers – subject to their categories depending upon the segment specification.
-Fulfillment of the target KPIs with profitability,sales margin and revenue generation across top 20 customers for the region.
-Planning for business viability for each Service Solution through complete business case study & work-out the Delivery and Credit for specific market
-Responsibility of the special & seasonal business of Gifting Solutions.Handling the SCO Key Account Operation for the Kolkata Store.
-Managing the promotional and campaign activities for new products and work with the Supply Chain & Logistics team for successful delivery completion.
Associate Manager-Key Account Management, Staples 01/2010 - 03/2012
-Key account management and new business acquisition for corporate customers in Eastern India.
-Portfolio management for office,IT and gifting spends.Monthly consumption analysis and work closely with the operations team for Service Level Agreement fulfillment.
-Create yearly rate contracts for office and IT supplies for companies nationally and servicing them through studying the consumption pattern and aligning weekly deliveries with close co ordination with the logistics and operations team.
-Working with the customers on the online ordering platform integration with the customer SAP & ARIBA platform.
-Certified Salesforce user and responsible for training and certifications for the users using the online ordering platform.
-Responsible for driving the promotional & festive season gifting campaigns with interns and working with the operations team in determining the delivery schedules regionally.
Business Owner-Co Founder, Entrepreneurship Venture 03/2009 - 01/2010
- Creation of an entrepreneurship venture in the field of automobile advertising.
-Create a tripartite business relationship between the financing banks, customers and the automobile partnership dealers in servicing the monthly EMI payments through the bank, sponsored by the advertising companies.
-Setting up the business venture, identifying partner companies and also creatingliaisonswith the local transport authorities for licensing of the commercial vehicles and business plans for the future.
-Project deferred due to complexity of the trade license concept in India and market downtrend for financial loans for future investments.
Territory Manager -Corporate Sales & Key Account Management, Sharp Business Systems, Inc. 06/2007 - 04/2009
-Marketing Trainee working on brand promotion for SHARP multi-functional devices,LCDs and solar panels across eastern India
-Working with regional branding partner for promotion campaigns,roadshows and content development with regional newsletters and editorial magazine.
-Implementation of the business promotion strategy with the marketing team located at head office.
-Brand management and handling marketing campaigns across the region-Products handled- Multi Functional devices, High end solution LCDs
-Promoted to Territory Manager,responsible for strategic & value based selling for the existing customers across the designated territory.
Join thousands of students profiting from perkmylife resources
Courses, notes, Q&A groups - all you need to study efficiently and achieve the goals!