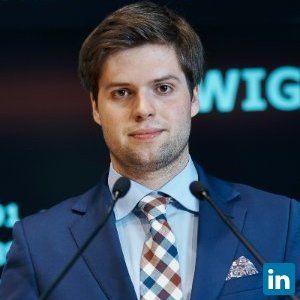 Krzysztof Caruk
Private Equity Intern, Icentis Capital
Connections: 5
&nbsp | &nbsp

Warsaw School of Economics 2011 - 2014
Finance and Accounting (Specialisation: Corporate Banking / International Financial Markets)
Private Equity Intern, Icentis Capital 08/2014 - current
Involved in all aspects of the investment process, including deal screening, financial modeling (LBO), due diligence, preparing materials for investment committees and working with portfolio business.
Project Support, Bain & Company 05/2014 - 05/2014
Investment Analyst, Inovo Venture Fund 07/2013 - 05/2014
Involved in all aspects of the investment process, including deal screenings, negotiating term-sheets, financial modeling, due diligence and preparing materials for investment committees resulted in completed two deals.
Senior Specialist at Citibank International PLC, Citi 07/2013 - 10/2013
Daily valued of net assets and verified all net assets valuation components of well-known global investment funds. Opinion made on operational risk for new projects and improved the valuation processes and verifying operational procedures as well as ensured their execution.
Investment Banking Intern, Capital One Advisers 04/2013 - 06/2013
Involved in several ECM/DCM/M&A projects. Responsible for finding new clients and preparing market researches in investment memorandums. Additionally involved in various tasks such as preparing teasers and COMP lists for selected transactions, replenishing DCF models and language translations.
Founder, Students' Business Club 03/2012 - 04/2013
Founder of one of the most prestigious student organization in the Warsaw School of Economics. Lead and monitored activities of 80 members. Maintained successfully relationships with well-known corporate partners. Organized several events such as "A day with a public quoted company", "Wednesday with the Warsaw Stock Exchange", and "Alternative Investments – wine, art and gold".
Equity Research Intern, BZ WBK Brokerage 03/2013 - 03/2013
Involved in various daily tasks such as preparing news-runs for institutional clients, replenishing DCF models and multiples spread sheets for quarter financials and preparing market researches about selected markets.
Join thousands of students profiting from perkmylife resources
Courses, notes, Q&A groups - all you need to study efficiently and achieve the goals!