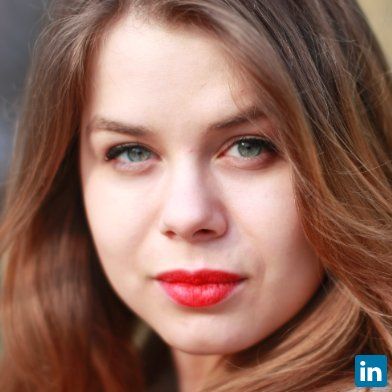 Klaudia Jabłońska
Junior Media Planner, MediaCom
Connections: 113
&nbsp | &nbsp

Warsaw School of Economics 2013 - 2015
Marketing
University of Lodz 2010 - 2013
Informatics and econometrics , operations research
XXI Secondary school, Lodz 2007 - 2010
Economics
Junior Media Planner, MediaCom 10/2013 - 07/2014
Creating strategic marketing communications, evaluating the effectiveness of campaigns;
Media buying, developement of media strategies and campaigns;
Competitive environment and the market performance analysis;
Report statements and preparation;
Identifying target audiences and analysing their characteristics, behaviour and media habits;
Managing budgets and maintaining advertising spend records;
Monitoring and updating clients on the effectiveness of campaigns.
Business development and Sales, Amsterdo Magazine 07/2013 - 09/2013
Email marketing;
Brand positioning and development of the online presence and brand awareness;
Data Mining;
Magazine content redaction.
Project Coordinator, Rap4Life 12/2012 - 06/2013
Charitable Concert Rap4Life, all the proceeds from teh action were donated as a financial support to Syria.

Building and maintaining relationships with various business partners;
Develop and direct marketing and communication strategies;
Managing the design, editing, production, and distribution of advertising (direct mail, print, media, and environmental),Internet marketing ( website creation,content and social media platforms);
Work with the University's Office of Public Affairs to build business relations and donor relations including communications and special events;
Financial management, supervision of lineup and PR.
Marketing Specialist, SKN SFI 01/2012 - 06/2013
Student's Scientific Association SFI, is one of the biggest organizations functioning in academic environment at University of Lodz;
Project Coordinator, collaboration with different stakeholders;
Website Creation;
Social Media and PR management;
Coordination of the project scope, budget and planning.
English speaking Customer Service Specialist, SouthWestern BPO 02/2013 - 05/2013
Analyzing referral cases identified upstream in the process and clearing them by calling the customer.
Running ability to manage several CRM applications ,
Solving Logistics problems,
Camp O-AT-KA , Campower (Work and Travel), Camp America 06/2012 - 09/2012
Support Staff program
hospitality or maintenance,administration, baby-sitting and interaction with children,
Marketing Internship, FPL 01/2012 - 01/2012
Conduction a comprehensive market analysis of new product concepts.
Implementing the new visual identity. (Graphics, design specification)
Creating, folder materials, e-learning platform content,
Documents translation
Join thousands of students profiting from perkmylife resources
Courses, notes, Q&A groups - all you need to study efficiently and achieve the goals!