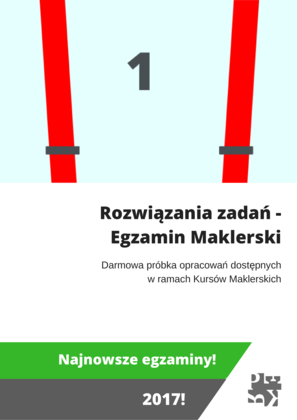 Kurs Maklerski SELF-STUDY - Próbka rozwiązań!
Created at: 13/07/17 | Original format: pdf | Language: pl

Description:
Próbka opracowań zadań z najnowszych egzaminów KNF na Maklera Papierów Wartościowych. Pełna wersja opracowań prawie 4 tysięcy zadań dostępna jest w ramach kursu: Kurs Maklerski SELF-STUDY https://perkmylife.com/course/kurs-maklerski-selfstudy
Join thousands of students profiting from perkmylife resources
Courses, notes, Q&A groups - all you need to study efficiently and achieve the goals!
Similar files
III etap Egzaminu na Doradcę Inwestycyjnego 19.08.2012 (sierpień 2012)
Egzamin na maklera papierów wartościowych 09.12.2007 (grudzień 2007)
Egzamin na maklera papierów wartościowych 26.10.2014 (październik 2014)
Egzamin na maklera papierów wartościowych 11.03.2001 (marzec 2001)
Egzamin na maklera papierów wartościowych 25.11.2001 (listopad 2001)
Egzamin na maklera papierów wartościowych 28.05.2000 (maj 2000)